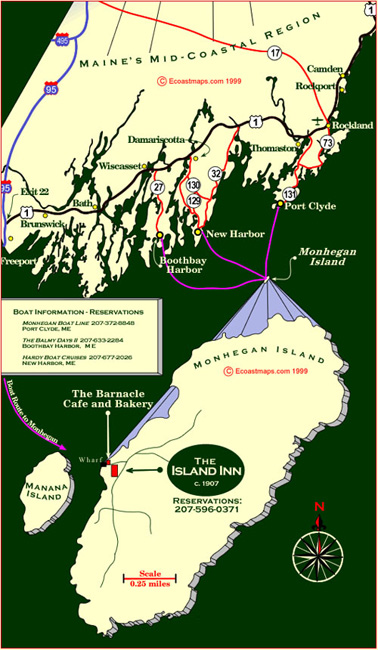 Monhegan Island, ten miles off the Maine coast from Port Clyde, is noted as a premier birding locale as it lies on the Atlantic flyway. The counts & variety of birds that can be spotted at any given time during spring and fall migration makes it exceptional with the possibility of seeing many species not normally viewed on the mainland. It had been perhaps thirty years since I was last on the island and I knew this trip with Derek would be well worth the effort.

After a time Derek worked his schedule out to free up a weekend and I was informed of the perspective dates - September 29th and 30th. The informal format he proposed was for interested parties to make their own travel and lodging arrangements and the group would plan a time to meet once everyone gathered on the island. I was disappointed to learn Jeannette couldn't make the journey; she was required to stay in Yarmouth to tend the store while Derek served as our guide.

I talked with my friend Paul Beauchesne to see if he had any interest in this weekend, which he emphatically did... Afterwards I spoke with Linda about it, never thinking she'd be interested, but surprisingly she indicated she'd like to go. Her birthday was in early September and I indicated this would be a present from me. I called Paul to inform him Linda would attend and upon asking his spouse Marlene stated she would go also, so the four of us made plans for that weekend. We determined to depart the Friday before and return late Sunday afternoon. In the end result, Derek and several other folks arrived early Saturday and returned to the mainland on Monday so some of the birding was conducted in counterparts by the group.

I did some investigation, made reservations at The Island Inn and called the Monhegan Boat Line to reserve passage. This was done quite awhile before the travel dates. I made notes of the arrangements, emailed them out and then went about life and business as usual traveling to Savannah, Georgia for most of the month of September. My photojournal, Photographs From Georgia documents what I was doing outside of work while in that area. Upon my return it wasn't long before I had to dig out my notes and commence preparations for the Monhegan trip.

Linda and I talked over what we may require for the weekend. As is generally the case, I wasn't overly concerned about clothes. My planning focused more on what to bring for a lens set and camera accessories. We didn't wish a transport overload for a long weekend – car to boat to hotel and vice versa. Once this was resolved and a plan was determined for how to pack the selections, we were just about ready.