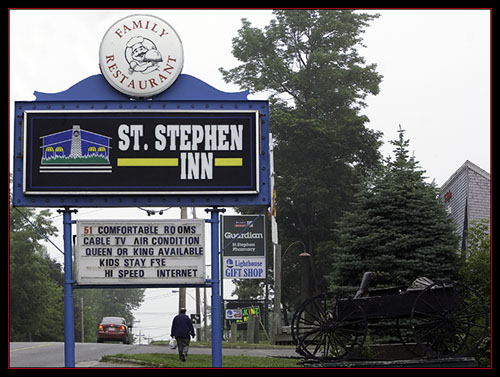 One never knows what to expect when crossing into Canada or if your vehicle may be selected for more than a cursory glance. However, our experience with the scoots had never been particularly troublesome and this was the case today. I was asked the plate number of my Harley, where we were going, for what purpose, etc., and we didn't have to wait long in line to cross over. As of January 2008 everyone will need a passport; as it is now, you're supposed to have an original birth certificate to prove your nationality and photo identification to indicate who you are. Everyone but Linda had a passport, but I didn't show mine and we went through after answering the simple enough questions. Kevin and Loretta were asked the same questions; he later indicated to me that he told the customs guard he didn't know where he was going – he didn't remember the name of the island and that in essence, he was following me. The guard remembered what I'd told him and let them through...

We gained an hour immediately upon crossing the bridge. It went from 2020 to 2120 hours (9:20 PM), which isn't a big deal we thought. This turned into more of an issue when we learned all the restaurants in St. Stephen closed at 2100 and we 'missed the boat'. We found a hotel with availability, checked in and located a Tim Horton's to get us by until morning. The hotel, St. Stephen Inn, was okay and the lady that ran the place of Asian decent was really nice. Her English was halting to a degree but not bad and we understood her. She looked at Kevin's Harley jacket as we checked in, then stated she 'knew others in your club' – 'yikes' we thought – that is one helluva large club.... I told her my friend was 'scooter trash' but I on the other hand was completely trustworthy in every regard. We both ended up with rooms and had a decent night's sleep...You know this hotel must be comfortable – it says so right on the sign.

It had been a long but good day. I'd gotten up around 0530 hours, was packed and ready to ride by 0800. According to the GPS we'd spent 6 hours, 22 minutes in the saddle and traveled just under 300 miles getting into Canada.